6. Kerosene heaters and cookers
12. Electrical; generators
and power
Miles Stair's SURVIVAL
SHOP
Miles Stair's SURVIVAL
SHOP
BURNING KEROSENE HEATERS AT NIGHT
The instruction books say not to burn kerosene heaters at night. Of course: that is what lawyers and product liability are all about. But it is perfectly safe to burn them during the day, all day long, with children and pets around, and never have to worry about them -- heck, they even automatically extinguish themselves if jostled! Huh? Wait a minute! If those heaters are that safe to burn in daylight, why are they unsafe when the sun goes down? Last time I checked I didn't see any solar panel that told them it was dark outside and they could suddenly go crazy and burn down your house. As long as a window is cracked to admit oxygen burned during the combustion process -- the same as done during the day -- I burn a small radiant all night long on really cold nights. It keeps half the house at 70 F and takes the chill off the rest of the house, and only consumes 5/8 of a gallon of kerosene. If I turn off all the heat at night, it take more than a gallon of kerosene in a much larger convection heater to GAIN heat in the morning, as maintaining heat requires only a fraction of the energy needed to actually gain, or increase, temperature, so it is more cost effective (and vastly more comfortable) to leave a small radiant burning on freezing nights. Of course I am assuming your are careful and don't have small children sleeping next to a burning heater.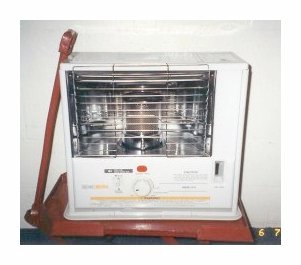 If you choose to burn a kerosene heater at night, the most likely reason is to simply keep the chill off the house - not keep the whole house at 70F all night long. For that purpose, you need a heater that uses a small diameter wick. The heat output from a kerosene heater is directly related to fuel consumption, and fuel consumption is a factor of the capillary action ("wicking" action) of the wick. The number of individual fiberglass fibers in a wick depends upon the circumference and thickness of the wick, and large wicks are usually thick. As circumference is 3.14159 x the diameter, the circumference grows at a constant rate with the diameter. So, we can concentrate on only the diameter of wicks, not their circumference and thickness, to find the right sized wick (and therefore the heater) for a specific purpose.
For low BTU nighttime heating, a heater which uses the smallest diameter wick should be the heater of choice...keeps the chill off the house while also being by far the most fuel efficient in the process.
The small diameter wicks are from 2 to 2 15/16" in diameter, and are numbers 4, 4A, 4B, 6, 7, 12, 19, 24, 25, 30, 31, 34A, 37, 38, 39, 41, 42 and 42A.
If you live in the far North, you are probably using a heater with a large diameter wick during the day for maximum heat output. The large diameter wicks are from 4 1/8" to 4 3/4" in diameter, and are numbers 3, 3A, 3B, 3C, 3X, 5, 5A, 5B, 5C, 5X, 8, 13, 14, 18, 20, 21, 23, 28, 29, 32, 33 and 40.
Medium diameter wicks would be a good choice for nighttime heaters in the far North and daytime heaters in more moderate climes. Medium diameter wick numbers are 1, 2, 7, 10, 11, 15, 16, 17, 22, 26, 27, 34, 35 and 36.
So, when you purchase a heater for a specific purpose, check the "All Heaters" list by wick number to see what size wick that heater uses, and compare that with the lists above of comparative wick diameters!
Related links: