COOKING WITH WOOD STOVES IN THE SUMMER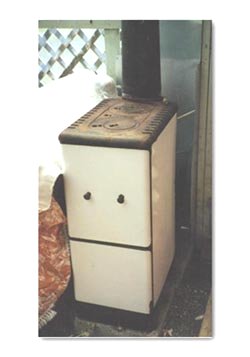 A trash burner.
How will we cook in the summer without turning our homes into ovens? My grandmother had a screened back porch right off the kitchen, and had two wood ranges there for summer cooking. The reason a kerosene stove (or any kind of portable stove) is desirable is that they can be used on a back porch or patio.
If you live in the country and are good at barter, wood stoves known as "trash burners" can be sometimes be found - they have to be "found" - as they do not meet emissions standards and in some States cannot be sold. Trash burners are narrow, like 14" wide, 30" deep, and counter-top high. I traded some computer time for one several years ago, and installed it in my large greenhouse. When the power goes out during winter storms, we use it as a cook top range, and by placing a Coleman folding camp oven on top, it will also bake small items. Obviously, a covered, wind-protected patio or screened greenhouse is ideal for out-of-the-house cooking.
------------------

RELATED LINKS: