KEROSENE HEATERS
The best information on kerosene heaters is available here.
Photos of Heaters - Site Index for all things Perfection
So much has changed in the world of kerosene heaters since this page was first written almost 7 years ago. Toyotomi no longer exports kerosene heaters to the USA because of our legal climate, so there went some fine kerosene heaters. Four years ago I could highly recommend the Dyna-Glo heater, but while they are still available, the internal design changes which include a pinned wick renders them not acceptable to me. That leaves the KeroHeat Model CV-2230 convection heater and the Corona SX-2e radiant heater as the best quality kerosene heaters available now, with the Corona model #23-DK being an excellent convection heater, but as of October 3, 2006 it is no longer available.
I have many more articles on various topics concerning modern kerosene heaters, flame spreader heaters, kerosene fuels, center draft lamps such as the B&H, Rayo & P&A Royal on my web site dedicated to all things kerosene - www.MilesStair.com.

Why have kerosene heaters at all? First, they operate without the use of electricity, so your house can be warm and livable even if the electric power goes out during a winter storm. Second, kerosene itself can be stored in large quantities for a long time, so you are not at the mercy of anyone in an emergency. In actual use for heating a home, a gallon of kerosene will provide about the same heat output as a wheelbarrow load of wood! In the event of a total societal breakdown, obviously you would not be able to store enough kerosene to last a lifetime, and in such a case you would need to turn to wood or coal, whatever is available locally, for winter heat. But burning wood or coal means putting up smoke signals showing exactly where you are and telling anyone who sees the smoke plume that you are warm and most likely have other supplies - like food. Why make yourself a target if you don't have to? If everything went to heck in a hand basket, a hundred gallons of kerosene and a good radiant heater would keep you safe in your home over a winter without attracting attention, and that should be enough to keep your family alive. So few people actually prepare than in a year after a major cataclysmic, the unprepared would not be around to steal what you have.
Kerosene heaters have been used for over a century in complete safety. Look at the advertisement for "Perfection Oil Heaters" from 1918. There were more than 3,000,000 Perfection Oil Heaters in use in 1918! The background of the ad shows people lined up in the snow to purchase coal. The first line in the advertisement is: "Perfection Oil Heaters saved the situation last winter." What happened in 1917? The great influenza pandemic after WW I. People who had a Perfection Oil Heater did not have to line up with strangers to purchase coal...and catch the deadly flu that killed millions of people. Those with a kerosene heater and a supply of kerosene could avoid crowds - and survive. With the current situation of "Homeland Security" being very unstable, with Muslim terrorists just waiting for the chance to release a biological or chemical attack on our cities, kerosene heaters could again save the day.
THE DIFFERENT TYPES OF KEROSENE HEATERS
"Pure" kerosene heaters have a dual combustion unit (catalytic converter) and are more efficient than the cookers -- up to 99.9% fuel efficiency. Once broken in, a kerosene heater produces virtually odor-free heating; only at start up and shut down do they produce fumes, and then only for a few minutes. A couple of windows opened for 5 minutes during that time takes care of the fumes, and then need only be cracked an inch or so during normal operation of the heater. The design efficiency of almost all kerosene heaters occurs within a very limited heat range: your choice of heating from 90% to 100% of the maximum designed production. If a unit is rated at 22,300 BTUs, it will NOT operate efficiently at much below 20,000 BTUs. That is a lot of heat, so the choice of which model to purchase becomes critical to long term mental stability.
Kerosene heaters themselves can be classified into two distinctive subtypes: radiant and convection, with the Toyostove DC-100 being a unique combination of the two types of heaters.
Both types use a circular wick to transport fuel via capillary action from the tank to the burner unit, sometimes called a catalytic converter. That burner unit is the heart of the heater. In a radiant heater the burner unit is encased in a glass cylinder, with a half circle of reflective polished stainless steel behind it. The burner glows red and reflects infrared heat waves directly to things (like people). Radiants do produce some convective heat, but that is ancillary to their primary design. Radiants are usually rated at 10,000 BTUs or less and project that heat forward only; therefore, they may be placed against a wall or window.
Convective heaters heat the air, which then heats the environment. The burner unit is encased in a steel sleeve, not glass. Convective heaters are generally rated at 20,000 BTUs or more and radiate heat in all directions. They need at least three feet of clearance all around from combustible materials, or your home could become uncomfortably hot.
The reason for knowing the differences between radiant and convective units is because of the effect on the burner units. The very act of radiating heat robs the burner of heat during start-up, so a radiant heater may take up to 6 minutes to warm up to operating temperatures, whereas convective heaters can be at full operating temperatures in as little as three minutes. And BTU output is directly related to fuel consumption: radiants use only half the fuel of convective heaters but put out only half the heat. As most kerosene heaters have one optimum position for efficient operation, choosing the proper size heater for the space to be heated is important: there is no low or medium heat position, just "high" as the most efficient for the particular design. Sorry. Open windows to regulate the household temperature.

The wick height must be adjusted correctly for clean burning, and it the same for both convection and radiant heaters.
| | | |
| --- | --- | --- |
| Toyotomi WC 105 | Corona from Manning | Dyna-Glo from Northern |
CONVECTION HEATERS
These heaters are characterized by their circular tower design and safety grillwork. Heat is distributed omni directionally, so they must be placed at least 3 feet from any combustible surface -- often the middle of a room. The Perfection (patented in 1849) and the Aladdin Blue Flame were the first widely distributed omni directional kerosene heaters, but most of the units available now are clones of the Toyotomi (Toyostove or Kero-Sun) model WC-105. These units are 99.9% efficient with only a few fumes at start up and shut down. They can be used as a primary heat source. Most of the units now have an electric (battery powered) igniter, so they are extremely easy to use.
There are a few problems with buying a new convection heater. The heat output is high -- over 22,000 BTUs. And they don't adjust down much, either. With an outside temperature of 45 F and an inside temperature of 65 F, a Toyotomi WC 105 will drive the temperature in our large home up to 75 F within 2 hours (set on "low"!!!), and then must be shut down for 6 hours or so until needed again. People with large homes in really cold country would find these heaters perfectly safe and capable of heating their entire home quite easily. I now use my WC-105 to heat my uninsulated shop in the winter, and for that purpose it is magnificent. Those with small homes or not living in the north would be better off with a radiant heater or a smaller, used convection heater.
| | |
| --- | --- |
| | Most of the convection heaters are large and heavy, and the requirement of being placed in the center of a room means they must be moved at times -- like outside for refueling, or merely aside when not in use. I solved that problem by mounting the wheels, axles and tongue assembly from a discarded child's wagon (courtesy of the local county disposal site) onto a piece of 3/4" plywood measuring 18" x 24." The heater fits on the flat surface of the cart and can be easily towed instead of being carried. |
Most large convection heaters have a fuel tank of about 2 gallons in capacity and will burn for 9 to 12 hours on one filling. The prices range from $125 to about $220, generally, and wicks cost from $10 to $20 each, depending upon where you purchase them. Plan on purchasing at least 4 spare wicks, just for the sake of safety.
Smaller convection heaters may be found for sale on eBay. Make sure they are in good condition, and you must know the make and model number precisely. With that information, you can then find which wick fits the heater. Wick size is directly proportional to heat output, as the capillary action of the wick determines the amount of fuel burned...the smaller the wick, the less fuel is burned, and the heat output is lower. The small diameter wicks are numbers 4, 4A, 4B, 6, 9, 10, 12, 19, 24, 25, 30, 31, 41, 42 and 42A.
If you want maximum heat output, then choose a heater with a large diameter wick. The large diameter wicks are numbers 13, 17, 18, 20, 21, 28, 29, 32, 33 and 40.
I have two lists for which wick fits which heater - an alphabetical list and a list by wick number. Use whichever list is easiest for you. I have the wicks in stock for immediate delivery at my Wick Shop.
The Corona model #23-DK is an excellent, quality heater, but as of October 3, 2006 is reportedly unavailable for the 2006 - 2007 heating season. Considering the CV-2230 (below) is half the price of the Corona and works just as well, it really doesn't matter, but it is getting hard to recommend heaters if they keep disappearing from the market! The Corona 23-DK can still be found on eBay for those who want one.
The KeroHeat Model CV-2230 is an excellent large convection heater - and it takes an unpinned wick. This particular KeroHeat is identical to the "Heat Mate" convection heater. They are less expensive than the Corona 23-DK and work just as well. Both are recommended. The DuraHeat DH2300, the KeroHeat CV-2300 and the Dyna Glow CV2300 are one in the same, and are not recommended.
~~~~~~~~~~~~~~~~~~~~~~~~~~~~~~~~~~~~~~~~~~~~~~~~~~~~~~~~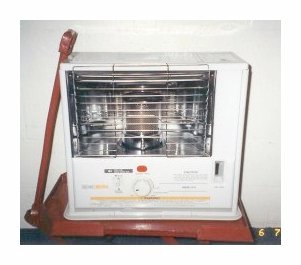 RADIANT HEATERS
Radiant kerosene heaters project their heat in one direction, so they may be placed against a wall, and they generally produce less than 10,000 BTUs. For small apartments or homes, radiant heaters are the obvious choice, as they don't need to be in the middle of cramped living space, and their heat output is not overpowering. This allows continuous burning (and therefore eliminating the constant shut off and restart that would be necessary for larger units -- the major source of fumes from kerosene heaters) with the same or with less overall fuel consumption. Choose a radiant kerosene heater to fit your particular application, based upon your room design and the design of the heater itself.
"Tony Sun" radiant heater. Unusual design with a bottom fuel tank. This particular heater is not recommended.

Note: NEVER use a radiant heater to heat a greenhouse! Only a pure convection heater or a stove/heater combination can be used in greenhouses, as the radiant heat will burn the plants.
The design of most radiant heaters allows for the convenient removal of the fuel tank for refilling, and the quality of the units is such that they could be the primary heat source for small homes or apartments. In northern climes where winter temperatures frequently fall below freezing, several radiant heaters placed throughout the home in different rooms (or as far apart as possible) would provide enough heat for comfort. And dual units allow one to be cooled down for refueling while another is still operating; redundancy equals safety. Most of the radiant heaters will operate for 12 to 15 hours on one filling (approximately 1 gallon) of the fuel tank.
The instructions that come with kerosene heaters warn not to burn them at night unattended. For more information on this, read Burning Kerosene Heaters at Night.
My personal prejudices on radiant heaters again centers on the quality, cost and the shape of the reflector. I have an inexpensive, Chinese made Heat Mate HMHR-1101, a Toyostove RCA-87, and a Corona SX-2E. The quality of the Heat Mate is not as good as the other two, but it costs considerably less and works very well indeed.
The Corona SX-2E is unique is that it has a very deep parabolic reflector, approximately 9" deep and 11" wide. It is ideally suited for heating a long, narrow room if the heater is placed at one end, as it projects focused radiant heat much better than other radiant heaters with a shallow reflector. The Corona has a small diameter wick with clips and the wick has a notch for the igniter, so it is not adjustable at all and is almost impossible to light with a match. However, the very high quality of the Corona itself overcomes my built in prejudices about the wick. If the D cell batteries that power the igniter are replaced every year or two, the wick ignites easily. The Corona is also unique in that it has a very tall, narrow catalytic converter. Combining a small diameter wick with a tall catalytic converter means the Corona burns exceptionally clean without any adjustments required. Available from Manning Service, www.MSIWIX.com, they are good people.
The Corona radiant SX2e is HIGHLY RECOMMENDED!
The Heat Mate HNHR 1101 actually burns cleaner (after adjusting the wick height and centering the central air pillar) than the RCA-87, as the catalytic converter is taller, thus having more surface area to properly burn the hydrocarbons (kerosene) brought up via the wick. The approximately 7" deep, 14" wide reflector is typical of most kerosene radiant heaters, and works well in a typical square room. I have no doubt whatever that the six spare wicks and spare glass globe for the burner I have for the Heat Mate will keep it burning for decades. The Heat Mate HNHR 1101 uses unpinned wicks, so wicks can be trimmed 1/4" and readjusted higher about 3 times, so each wick will last for about 3 or 4 heating seasons. The Heat Mate HNHR 1101 works very well indeed, and is very inexpensive...it IS worth the little bit of extra trouble and available through your local Ace Hardware store as Item no: 4029856. Their price as of November, 2004 is $119.99.
The KeroHeat Model CT-1100 is identical to the Heat Mate HMHR-1101. There is a model of this heater which has a built in electric fan (#RF1140), with the model number RF-1100. This is an excellent heater, and the design is such that it will still work if the electricity goes out. The fan also distributes heat very well, thus increasing the overall efficiency of the heater.
There is a Heat Mate omni directional radiant (Sengoku label) which appears to be an attempt to replicate the Toyostove DC-100 at half the cost. The attempt failed -- it is NOT recommended. It uses the same catalytic converter and wick as the radiant, yet it has the fuel tank at the bottom. You guessed it -- the wick does not reach the bottom of the tank. In fact, the sump from the HMHR-1101 appears to have been welded intact into the bottom of the fuel tank. The sump works well with the HMHR-1101, as it is fed fuel from the removable tank located above the sump. With the omni directional heater's bottom tank, however, the tank should be kept more than half full just so that fuel is in contact with the wick or else the heater burns poorly. Someone was asleep at the switch when that heater was designed.
NOTE: All of the heaters mentioned above have an electric start mechanism using batteries (usually two "D" size) to ignite the wick by heating a coil in what appears to be a flashlight bulb without the glass globe. Sometimes the heating coil will fail, but replacement is easy (push it in and twist 1/4 turn) and the cost is only $3.75 each. If the electric start system fails, DO NOT use a kitchen match to ignite the wick! Kitchen matches are too short (2 1/8"), and they have the nasty tendency of the head falling off - right into the space where the catalytic converter must seat properly for proper combustion. Available at almost every grocery store are bamboo skewers, and a pack of one hundred 12" long skewers costs less than $1.30. Just light one end of a bamboo skewer, raise the catalytic converter and light the wick. Blow out the skewer, rub off the charred end, and it can be used dozens of times...a single pack of skewers will last for years. Bamboo skewers can also be used to light the stoves listed below.
Please remember that kerosene heaters need regular maintenance.
Kerosene Stoves
"Butterfly" brand kerosene stoves are available from www.StPaulMercantile.com St Paul Mercantile is highly recommended. Their prices are low and service is high - a great combination!
----------------------------------------------
Comment from a visitor to this site, dated Feb. 17, 2004
You have know idea how much I have saved this winter on gas bills!!! We have a very, very cold winter this year. A lot of temps below 10 degrees at night. My bills would have been a killer. I bet I would of had $250.00 to $300.00 per month. I used about $80.00 in kero and my gas bill ran about $28.00!!!!!!! So I got off so cheap. I would not have tried Kero heaters if not for reading your site. And both selections of heater I made on the basis of your recommendation and have been "more than pleased." Big thumbs up to you. And my house has been WARM!!!!!! Something it has never been since I built it five years ago. It was always a big battle over the thermostats. I would turn it down and my wife would turn it up!!!!!! Now we are both happy and WARM!!!!!
---------------------------------
A question from a visitor to this site, dated October 21, 2004
I just checked on kerosene and it is about $2.50 per gallon in a 55 gal drum, $3.05 if you buy a gallon at a time. Doesn't look to reasonable. Thanks, Bill A.
Answer:
It is absolutely true that the price of kerosene is more than double what it was last year. Last month I had my tanks topped off, and it cost me $2.04 per gallon. A year ago the price was $1.05 per gallon, delivered, with a 100 gallon minimum. Last winter we heated the house for less than $300.00, and this year would be double that. In some parts of the country, kerosene is much less expensive than in Oregon. But everywhere, electricity and natural gas are up in price quite a bit as well.
Our Corona SX-2e will burn 3/4 of a gallon of kerosene per 12 hours of use, but because the radiant aspect heats the walls and furniture, the heater need not be on all the time as the residual heat keeps the house warm for a long time. Because the heater is at full heat output within minutes of being lit, people are warmed by the radiant heat immediately, then the convection heat produced heats the air and the whole house warms up. Therefore, we need not burn the heater at night except on extremely cold nights when the temperature drops below freezing. On the coldest nights of the winter, we can heat the house up to 70 F in the morning with only an hour of burning a convection heater, then a radiant heater will maintain that heat throughout the day.
The cost of electricity here is $0.06 per KWH, plus a $33.00 per month meter charge. Natural gas is not available. Those who heat with electricity often see electric utility bills of $200 to $300 per month. Even at the inflated price of kerosene in this winter of 2005, our monthly heating costs during the coldest months should not exceed $60.00 per month...considerably less than the cost of heating with electricity.
The heat output obtained from a gallon of kerosene burned in an efficient kerosene heater is approximately the same as a wheelbarrow full of wood. Firewood is over $200 per cord, so unless firewood can be obtained for free, heating with kerosene space heaters is less expensive than heating with a wood stove.
The cost savings of heating with kerosene space heaters used to be phenomenal, but the high price of kerosene this year has definitely cut into the tremendous advantage available in previous years. Because of the war in Iraq and the unsettled conditions in the oil fields of Nigeria, this winter of 2004/2005 will see unheard of prices for kerosene. But the price of oil, now approaching $58 per barrel, will also be reflected in increased costs for electricity, and natural gas is already priced at an all time high.
This may well be a winter when mixing heating sources could be advantageous. On days when the temperature is moderate, heat the house quickly in the morning with a kerosene heater, then perhaps maintain the heat during the day with a small electric space heater. Reading the electric meter and keeping a record of those readings will let you know when the point is reached when using an electric heater in no longer cost effective.
Everyone will pay more for heating their homes this winter. Kerosene space heaters are still very cost effective when compared to other methods of home heating, plus they have the advantage of providing heat when the electricity is out. And electricity WILL go out this winter, either from storms or from terrorist actions. When that happens, a kerosene space heater could keep your house warm and prevent all the plumbing from freezing, resulting in a huge bill to replace broken pipes, frozen and cracked toilets and water heaters, etc. Plus, you can stay safely at home when others must go to a public shelter and get sick from the crowded conditions!
Miles
~~~~~~~~~~~~~~~~~~~~~
HEATER/STOVE COMBINATIONS
It is possible to use a kerosene cook stove as a space heater in emergency situations -- just don't expect the efficiency of a real kerosene heater. The Alpaca is advertised for just this purpose...and in my opinion it does not work very well at all. A multi-wick stove like the Swastik or Premier will work much better as a heater, as the wicks are extremely inexpensive and the tips can be snipped off when they become charred.

---