SAVING GARDEN SEEDS
Varieties to save
Seed savers should only select plants from which to save seed that exhibit the best qualities of the selected variety, AND also from the variety which grows best in their particular microclimate. The best way to illustrate this is by giving an actual example. Green (snap) beans should mature early, produce pods which delay seed formation in the pod, and produce pods for the longest period of time, while also being resistant to various indigenous bugs and diseases. About 9 years ago I ran trials of a dozen different types of bush green beans, and found that in my microclimate (10 miles from the Pacific Ocean), Eastern Butterwax snap beans were the clear winner in all of those categories mentioned above. Those plants which produced the strongest stem and produced the earliest pods were marked with yarn and NOT picked, but rather the first pods produced were allowed to grow to full maturity and then saved for seed. Each year since then I have followed the same procedure, and I now can grow a snap bean which is especially selected for my microclimate and soil conditions.
I apply the same "early" standard to most of the seeds I save. Take squash, for example. Seed is saved from only the earliest acorn and other summer squashes to genetically select the earliest variety. Late season, winter-keeper squash seeds are saved from individual squash which as stored the best.
One of the reasons Soviet-era crop harvests were so dismal is because Joe Stalin applied his political theory to seeds! None could be genetically superior to any others, so seeds were randomly chosen for saving. As a result, after decades of not selecting seeds which had the specific qualities desired (quickest maturing or longest keepers), production became dismal. It was almost the same results as if the seed saved was from lousy hybrids!
A good way to find "old traditional" seed varieties for your area is to talk to your elderly gardening neighbors. You'd be surprised at the number of depression-era folks who still save some seeds from year to year."
Asking around some years ago, I found a family who still grew pinto beans from seed which were brought to our valley in Oregon by covered wagon in 1953. Normal pinto beans require a soil temperature of 60 F to germinate, and require in excess of 65 days to maturity (in cool climates). The saved seed from the old pinto beans will germinate at 57 F, and complete maturity in 58 days or so. Considering my garden is in a clearing in a rain forest, and cool weather and short summers normal, this old variety of seed has given me a reliable way to grow pinto beans which can be harvested before the fall rains start!
These same seed-saving measures can be used for many types of seeds. My fava bean seeds have been acclimated for over 10 years, and I can actually grow them over the winter for an early summer harvest. For cabbage, I acclimated a Dutch Market variety which will mature in 75 days, so I can plant rows in succession for staggered maturity dates, and I don't have to make all the kraut at once. Later plantings of cabbage can be grown in the same place the favas were harvested, thus taking advantage of the nitrogen-building characteristics of the favas.
SAVING SEEDS
"If saving seeds, do you find it necessary to store them in an airtight container for better preservation?"
No, I do not save seeds in airtight containers. The seeds are picked for saving when fully mature, graded, dried by natural convection in a wire basket, then stored in paper bags or envelopes marked with variety, year and month harvested, etc.
Larger seeds, such as beans, are stored in canning jars with used, ill-fitting lids, and stored in a warm, dark room. The reason for this latter method is for determining the quantity to be kept for planting: a pint of both green bean and pinto bean seeds, and at least a quart of each fava variety -- large (Aquadulce Claudia) and small (Banner). Some large seeded varieties of brassicas (such as chard) are also kept in pint jars.
Don't forget that God intended that seeds were to be kept in an open atmosphere for storage, so they could go through natural stages needed to germinate properly. That means sometimes we must fool the seeds to make them think they have gone through an entire winter in hibernation, if we intend to plant them again in weeks or months of harvest. Chard seed, for example, can be harvested in early fall, then planted again about the middle of September (in some climates) for an all-winter green. But for the best germination results when planting again soon after harvest, I freeze the seeds for a week prior to planting, which hastens the natural cycle and germination is normal.
Saving your own seed can be a lot of fun, but it requires advance preparation and thinking. I can grow different varieties of some plants without crossbreeding, but only if I plant the species in different garden plots on opposite sides of my beehives. If the bees are flying in one direction to a floral source, they don't care if they fly another 100 feet or so to the same flower of a different variety: Compositae (sunflowers) are particularly susceptible to cross-pollination due to this factor.
Added by New England Gardener
Some seeds are produced the second year a plant grows, like the onions below. They survived the winter in my garden, and I moved them into the new rows I made this year. On top of the stems you can see a bulb like formation. Later in the summer, these will have tiny blossoms all over them. After they have been pollinated, and the blossoms have gone by, we will cover the top of each stalk with a sock like bag made of a very fine mesh. Synthetics work best for this, because they do not absorb moisture. The shear fiberglass curtains which used to be popular can be used to make these, or women's nylon hosiery. Once the seeds are mature, they will fall off into the bags. Parsnips, carrots, cabbage, beets and many other crops are collected this way. You do have to watch them; you need to bring them in before they get rained on. Onions and parsnips have seed which does not keep well. You should collect it every year. Lettuce and spinach bolt, or begin to go to seed the first year. Save these seeds the same way, but choose the last ones to go to seed, since it also ends the harvest. - New England Gardener
"Supermarkets typically have only 3 days of food available. What if delivery was interrupted? This could, of course, be from a natural disaster or from a terrorist attack.
"The idea is to plan ahead, especially if you are like me and have many mouths to feed. O.K. So what do you do?" Read more.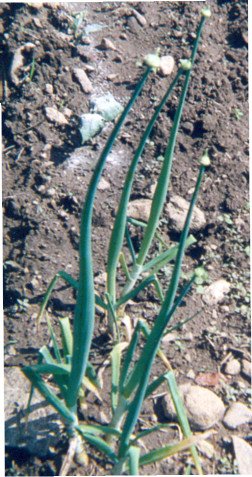 ------------------