BACK PORCH JELLO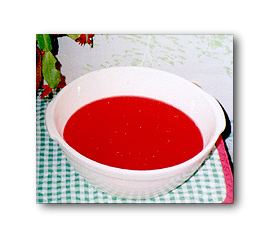 Mrs. Miles says "Back porch Jello" is a healthy treat that prepares in little time.
"Back porch jello" is a healthy treat that prepares in little time - cherry or lime tastes divine! If wheat is the staff of life, consider gelatin as the glue that allows the body joints to flex, bones to remain sturdy, and that keeps the body upright and pain free.
Loss of cartilage between vertebrae and bodily joints becomes a serious condition as people age. To counteract the loss of cartilage resulting in bone grinding upon uncushioned bone, with accompanying pain and loss of mobility, your diet must be supplemented with natural gelatin on a daily basis.
Below you will find my "Jello Jar Mix" for non refrigerated gelatin. It works well for "now" in a refrigerator, of course!
Recipe:
1 - 6 ounce box of favorite flavor Jello (or store "Brand X")
3 - packets of Knox unflavored gelatine
3 - tablespoons sugar, honey or white corn syrup
2 - tablespoons lemon juice (reconstituted is fine)
3 - cups boiling water
2 - cups cold water
Pour the 2 cups of cold water into a large bowl or 3 quart pot. Cut open the 3 packets of Knox Gelatine and mix well with the cold water. Let sit for 5 minutes while the tea kettle boils.

No -- it's not "canned" Jello; Mrs. Miles simply uses wide mouth canning jars to make Back Porch Jello -- they are easy to carry and keep covered and clean.
Add: 6 ounce box of Jello to bowl. Pour in 3 cups of boiling water, stirring well. Mix in 2 tablespoons lemon juice and 3 tablespoons sugar, stirring until blended. Set aside until slightly cool.
Pour into two wide mouth quart jars, with lids. Place in the coolest part of your house or back porch for the gel to set.
My jello set nicely overnight in a 65 F pantry. Of course jello will set faster in cooler temperatures.
------------------
>